Moonstruck! Celebrate Mid-Autumn Festival 5 Awesome Ways
Fête the Mid-Autumn Festivals with these five awesome ideas
The Mid-Autumn Festival has been celebrated in east Asia for over 3,000 years.  Traditionally, it's a time to celebrate the harvest, eat some mooncakes, make some romantic matches and celebrate with gleaming lanterns floating across the sky.
We've come up with five awesome ways to take the party home with recipes, activities and movies to celebrate the most lunar-tastic holiday of them all.
COOK: SWEET COCONUT STICKY RICE PUDDING
This recipe from  The Cookerydoo is nutty, sweet and satisfying. Try it as a wicked dessert, or an unexpectedly delicious breakfast for an easy school-morning meal.
You'll need:
1 can (1 2/3 cups) Coconut milk (Do not use 'light' coconut milk)
1 1/3 cups Water
1 cup Sugar
1 tsp Salt
1 cup White short grain white rice
For the topping:
1 tbsp Candied ginger chopped
1 tsp Fresh ginger minced
½ tsp Cinnamon
1 Asian apple or pear cut into slivers
½ cup Raisins, or your favourite dried fruit
Instructions
In a medium saucepan bring the coconut milk, water, sugar and salt to a boil, whisking occasionally.  Add the rice and stir.  Cover and reduce heat to medium low. (You'll know that your temperature is correct if a little steam is visible coming from the lid. A lot of steam means your heat is too high).  Cook for 1 hour to 1 hour, 15 minutes without lifting the lid.  The steam that is trapped inside the saucepan is what allows the rice to cook properly.  The rice should be soft and pudding-like.
Remove from heat.  Enjoy hot with prepared toppings
Store in a covered container in the refrigerator.
READ: Lin-Yi's Lantern by Brenda Williams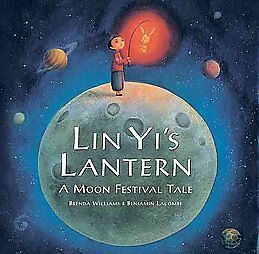 This charming tale about a boy preparing for his family's Mid-Autumn festivities is a great way to introduce kids to all the components that go into celebrating the holiday.
MAKE: Your Own Lanterns Out of Paper Cups
Those glorious lanterns that dot the sky during the festival are stunning, but all you need to make your own version are some paper cups and a big person to handle the cutting. Here's how to do it.
You'll Need:
4 Paper Cups
Yarn
Scissors
Paint
Ribbon
Glue
Optional: paper for making tassels
Instructions:
1. Cut two of the paper cups into sections. Trim the edges so that they're tapered.
2. Cut the bottom off the other two paper cups about half an inch from the bottom. Cut these in strips that match the number of strips of the larger cup.
3.  Take cotton thread or yard and thread it through the top and bottom of the cups, so that they're attached loosely.
4. Glue strips of the larger cup to the strips of the bottom. Let dry.
5. Paint the lantern in any colour you want, although red is always a good choice. Let dry.
6. Attach a ribbon as trim to the top and bottom of the lanterns.
7. Make tassels by binding strips of cut paper in different colours with tape, ribbon or glue. Attach to the bottom of your lanterns with the string.
WATCH: Kenneth Anger's Rabbit's Moon
Photos via: Andreas, TheBaoHouse, The Cookerydoo, Lantern Festival