Cool Gift Ideas for Your Kid's Teacher
How do you show your appreciation for the work your kids' teachers do?
Keeping a room full of 20 – 30 kids from going off the rails, staying after school to teach extra-curriculars, and even spending their own hard earned cash on art supplies deserves a proper thanks, but rewarding your kid's teachers heroic efforts during the holidays is not always easy. How much to spend? How personal should your present should be? What does this person do when they're off the clock?
We asked some of our teacher friends to give us a few pointers, then we hunted down some gift ideas of our own. (If you're still stumped, check out last December's gift suggestions plus  last summer's round-up of Etsy treasures for end-of-the-year gifts.) Here's what they said:
"Gift cards were always my favourite when I was a teacher. Although parents can be thoughtful with those too, so your kids teacher doesn't end up with $120 work of Starbucks. (Not that I'm complaining)."
– Caitlin Ueker
"Working at the high school level we tend to get very few gifts so really anything is appreciated! I personally love Starbucks gift cards and things from Bath and Body Works (ie lotions, candles). My aunt is a kindergarten teacher though and she is overwhelmed with chocolates, candles, lotions, etc and ends up donating them or regifting them!"
– Christina Slomka
"Chocolates, Tim Horton's gift cards, handmade tree ornaments, a nice letter written from the family."
– Rob Fowlie
"I love gift cards (Starbucks and Tims) and bath soaps and candles. Not the weird holiday smelling ones though, everyday use ones."
–  Jenn Wotherspoon
"Thank you cards for a job well done."
– Johanne Daoust
"There are literacy packages you can buy through World Vision starting at $10 going up to $50 providing things like pencils, workbooks etc for school kids. You can purchase these packages in a teachers name."
– Kara Fowlie
"A star wars action figure would be cool."
– Paul Vermeersch
Here are some of our ideas:
Moleskine Roller Pens in 6 colours
These make for easy marking and colour coding schedules. Teachers always appreciate a good quality pen. Available at select spots where Moleskine products are sold.
Classic kids books
Stocking a classroom library with bright, colourful, memorable stories is no effortless feat.  Classic kids big hardcovers by Dr. Suess and Beatrix Potter, Where the Wild Things Are, and The Very Hungry Caterpillar are a few vital components of an elementary classrooms bookshelf. Available at Chapters Indigo.
Classroom Wall Art
A big map of the world makes a classroom. If the class already has one of the pull down ones, this would also look great in a home office. By finkastudio on Etsy.
Wise owl book ends
Great for the home office or classroom, these hand carved creatures are made by artisans with India's Tara Projects. Available at Ten Thousand Villages.
Fun stickers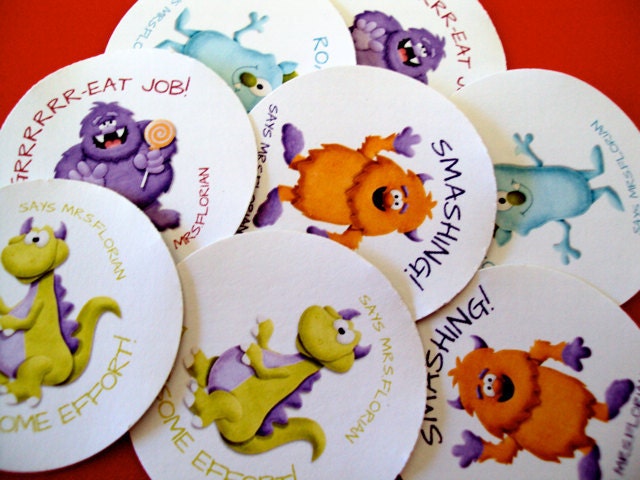 Teachers burn through stickers when marking. Give them a break from boring generic ones with these monster madness rewards! By Stickers by Symmie on Etsy.
Robot Flash Drive
Flash drives need not be boring. This silver little dude will make data transfers much more delightful. Available at Amazon.
Photo by Old Shoe Woman via Flickr